Hire party clowns for your party; you either love them or hate them, but they make the right entertainment for all ages, especially children. Miami Clowns are perfect for children's birthdays, carnivals, and fundraisers. When hiring a clown from Kendall Party Rentals near me, you will need to understand that there are many types of clowns to look over. Each offers different specialties, routines, wages, and costumes.
With many clowns available, it pays to do your research before hiring a clown. But, how would you find the correct fit? Happy you asked! We have addressed many of our top clown entertainers and requested how customers can choose the ideal entertainer.
For What Events Can you Hire Party Clowns?
Hire party clowns for practically any occasion, usually when children are available. Hire a funny clown to add fun and excitement to the following events:
Children's Birthday Party
Wedding Entertainment
Fundraiser and Charity
Family Fun Day Entertainment
School Event Entertainment
The Clown Magician
The clown with magician skills will entertain children aged five to ten.
The clown magician can provide your small guest's laughs and entertainment. These clowns will interact with your visitors by performing fantastic magic tricks—cards, magic sticks with flowers, and rabbits from his hat.
You get the best of both worlds: a funny clown and a fantastic magician.
Hire the Party Clown, that Also The Juggler and Acrobat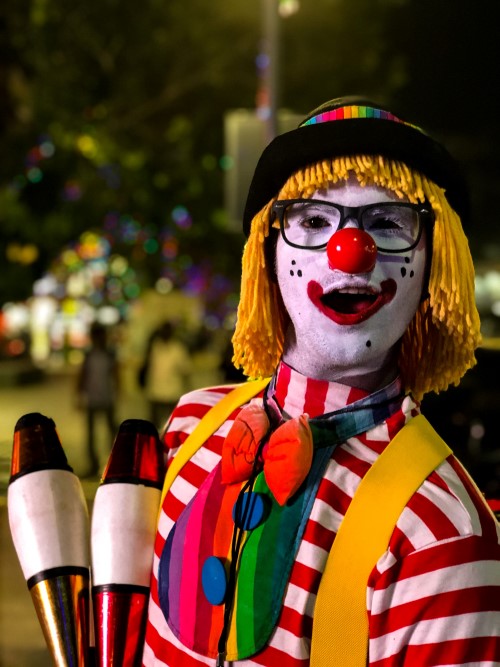 These types of clowns can perform acrobat tricks and juggle things.
Hiring this clown is the best choice if you expect many children ranging from five to ten years old.
These skilled clowns were and still perform in circuses. Besides juggling things to their head, they also cause funny, impressive falls and damage that amaze many paying guests.
The Storyteller Clown
Expect many young children? Consider hiring a storytelling clown.
It may be the best clown form since they can show their comedy skills when telling stories and fairy tales and give an astounding performance that everybody will like!
Plus, you can hire a storytelling clown for everyone since these clowns have no age restrictions.
The Clown Mime
The mime clown is appropriate for any crowd or age and any event.
Furthermore, the performer will last longer than other clown performers since both on stage, and in a pantomime, a fascinating and funny act among the crowd.
The clown mine won't say a word, but, he will capture your visitors with his moves, regardless of the age of the guests.
The Clown–Face Painter
Besides performing funny acts and making children laugh, this clown will also face paint.
If you hire party clowns with decent painting skills, the clown can keep the children at the party very happy!
The Balloon Twister Clown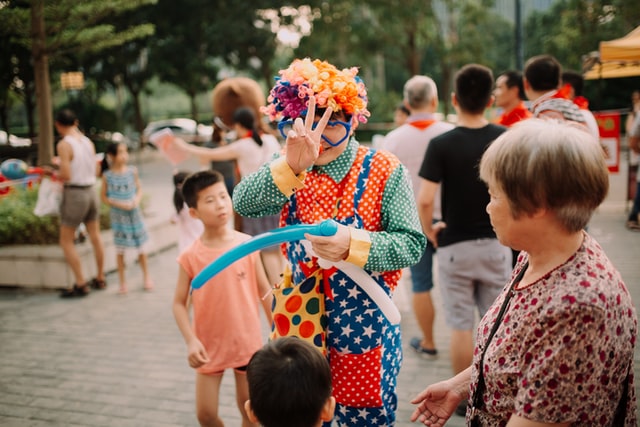 The most popular and timeless children's clown entertainer is the balloon twister. If the hired party clown can make stunning inflatable animals for each kid at your gathering, it's the best entertainment you will have unless you have a bounce house rental.
How Long Does a Clown Performance Last?
There is no correct response since hiring a party clown depends on your budget and flexible skills. Party clowns can change their repertory, depending on the kind of occasion you are putting together and their time.
They can play many games and entertain the children throughout the entire event. For instance, ride a one-wheel bicycle and make everyone laugh for two hours, or they could go in front of an audience for a quick 15-minute performance.
Hire Party Clowns to Perform in Significant Events
For more significant occasions, consider what exactly you expect from your entertainer. Typically, the host needs both face painting and balloon twisting at corporate events. First, however, think about what your goals are for the event.
Do you need straightforward and quick face painting and balloon twisting for many children that need it?
On the other hand, are you putting on an occasion with lots of time for the clown to do special balloons and sculptures?
Does your occasion offer the clown sufficient time for the final act?
One significant factor to consider with bigger occasions is when you need the clown to perform. For instance, if you expect to host 200 children with just 2 hours of performance time, a few children will most likely not experience the clown show or receive anything. Consider hiring two-party clowns or even a magician for a significant event to satisfy all of your guests.
What is the Average Cost to Hire Party Clowns Near Me
According to Fash, hiring a clown for your party will cost between $150 and $250. However, some clown rentals allow payments at a flat rate, hourly, or included in a party package