Yes, people like candlelight's for a night evening events, but Miami Party Rental planners argue that string lights work better and are much safer!
String lights have become popular and are an economical method to decorate and illuminate lawns either all year or a scheduled event. Much the same as Christmas tree lights, outdoor string lights can put a cheerful face on outside spaces, with some styling.
You may create a lovely view for your evening gathering or improve your patio look, whichever you choose to illuminate is up to you. Yes, hanging string lights can upgrade the style of your patio or outside setting while boosting the ambiance for casual social affairs, evening dinner parties, and much more. Moreover, placing outside weather-proof lights will keep the area prepared for use all year.
Party rentals in Miami experts have gathered a few hints on how to make a beautiful outdoor dinner party or usable living space with regularly adequate lighting.
Hang string lights on trees and hedges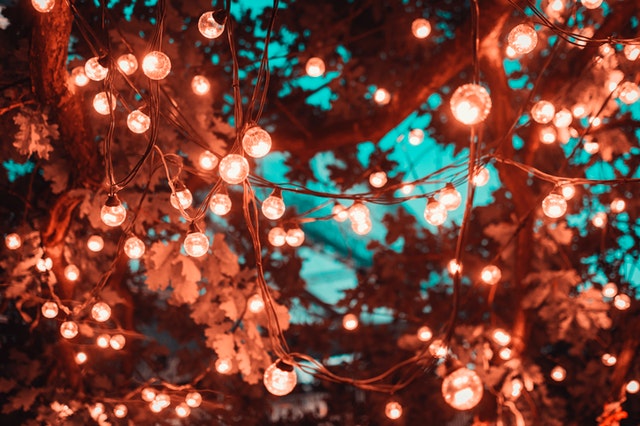 Trees make superb natural supports for outside string lights, particularly if you have them planted on both sides of the lawn. Using the trees is how to string lights over the patio effectively. So, when installed expertly, your outside lights will look like they're floating in the air once it becomes evening.
Another approach to make a statement is by utilizing the hedges. Connect a few strings of outdoor lights and weave through the thick cover of a hedge to have an instant effect.
Improvised canopy
Connect outside string lights to tall fence-posts or different structures and crisscross your yard to make an improvised canopy for your visitors.
It is the ideal addition to your outside event, and you can match this tent with a DIY outdoor wood table. You could also lease a good canopy from a tent rental store and décor it with bistro lighting to match your decorations.
A full star night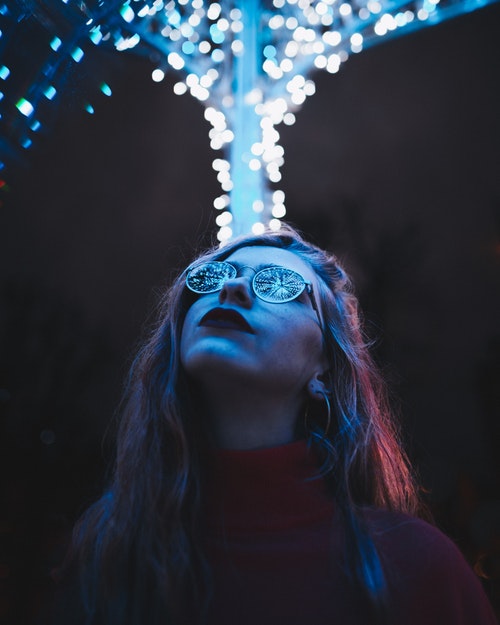 Indeed, even on a cloudy night, you can appreciate the stars with an imaginative overhead illumination. Therefore, connect string lights to the underside of an open ceiling gazebo, so these lights can add ambiance regardless of what the night sky looks.
Enchantment Bottle
From discarded jars to any see-through bottles, these containers look enchanted when loaded with string lights. For flawless farmed charm, use battery-powered string lights in glass containers and hang them using stainless-steel craft wire. The effect resembles lightning bugs floating through the air.
Exquisite Work Lights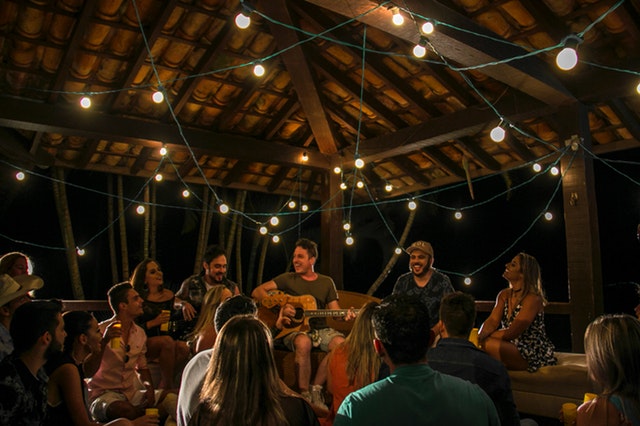 Who needs dull work lights when you can string together an exquisite option? String lights are the ideal method to enlighten your outdoor cooking and eating areas, patio umbrellas, and, anywhere you want more night light.
Go Vertical
Why not avoid the horizontal décor altogether by hanging string lights vertically? Yes, you can make a drapery of lights that is the ideal backdrop for any gathering or unique occasion.
Regardless if you free-hang them from the trees or facing a fence or wall, this is a look you'll want to use throughout the entire year.
Dress your décor and use fabric
With some creativity, there is no limit to the manners in which you can décor using string lights in your outside event. You can wrap around a wreath or a most loved sign the lights to add a cozy glow. For safety concerns, always ensure there are no dangling cords.
A designed for outside use light flame-retardant fabric can make a mystical wall or ceiling in your outdoor space. Pick a sheer fabric for the best impact.
Mix and match your lights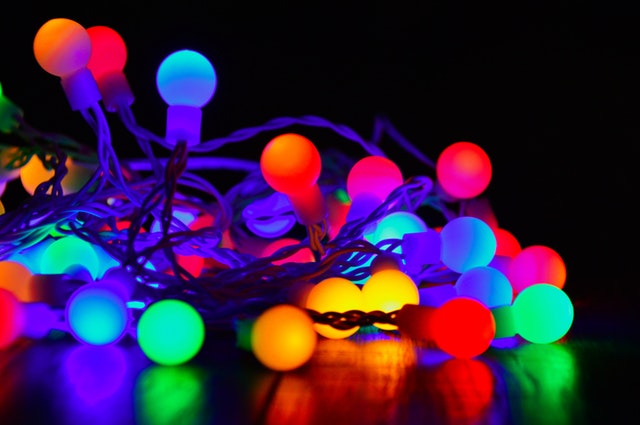 While too much of a good thing isn't a bad thing, nevertheless, you may try something hip when it comes to your lights. Transform your outside lighting with different shaped bulbs, and colors for a different vibe that talks style.
Conclusion
I know lighting won't break your party, but I do realize it will improve it. Take a gander at brilliant arranged string lights on sites like Pinterest so you may have a better idea plus the ones I just wrote down.
Regardless if you're using them for an outdoor evening party or wedding decor, setting up string lighting creates an intriguing ambiance of warmth, comfort, and, mystery.