Picking your reception seating style is undoubtedly a problematic wedding planning task; however, Party Rentals Miami organizers are here to help you make it a lot easier. We realize it is difficult to accommodate all of your visitors to make the ideal atmosphere. Since you'll first need to know if you want to create an intimate or luxurious dining experience. So are you attempting to decide how your reception tables will be organized?
Here are party rentals in Miami planners most popular seating styles that are ideal for each wedding.
Round Table
A bride and groom that need an excellent classic reception style should think about round table seating. This alternative works best with banquet halls or ballrooms venues and likely the least demanding seating style to accomplish.
Pros:
Will make table seating arrangements easier to do per group. Co-workers and friends that have never met won't feel awkward at your wedding.
It gives an exceptionally great design for a group discussion. It allows for people faces to be seen and voices to be heard, so the group of individuals will have many memorable moments.
Simple for guests to leave the table. It means guests could go for a restroom break or telephone call without disrupting other people.
Your site probably will have their round tables for you to use, you'll need to accommodate linens and decorations.
Cons:
Round tables need much space to fit in appropriately and effectively.
Needs much décor to cover up the tables. Since visitors will eat on the circumference of the table, there's such a significant amount of room to fill out. However, you should be careful so that the decoration such as the centerpieces won't obstruct the view of the presentation.
Rectangular Dining Tables
Rectangular dining tables are extraordinary for couples searching for an intimate reception but with a lot of guests. Visitors can take a seat at a family-style table and have an intimate dining experience.
Pros:
Long tables will permit you to add more tables to the venue.
Makes for an intimate seating plan since your guests will need to sit close to each other, unlike a round table.
Decorating will take up less time and resources. Adding a table lining plus adding a couple of vases will be adequate.
Cons:
Pulling out your seat and maneuvering around the long table can require a lot of work.
Your visitors may feel uncomfortable when seated next to strangers.
Mix and Match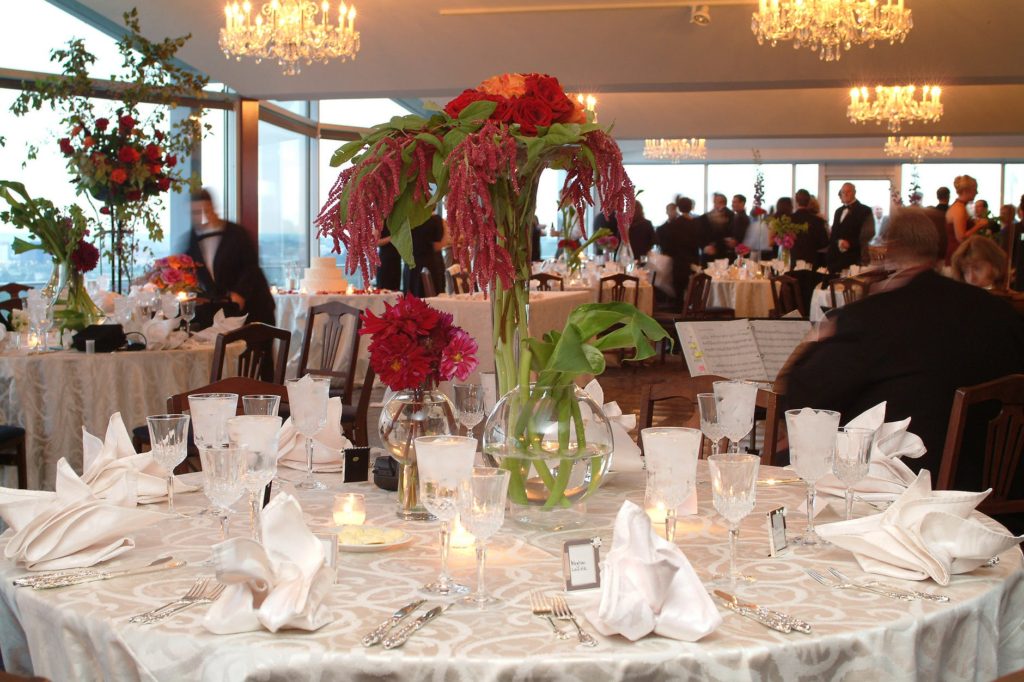 Can't settle on round or family-style seating? Then decide on both instead! The mix and match reception seating style are ideal for a large wedding and for couples that still want a traditional wedding day look.
Lounge Seating
If you don't want a formal sit down dinner lounge seating are perfect since it gives visitors a chance to mingle during the gathering. Visitors will love the casual vibe of your reception with this style, as well.
Square Seating
These square seating works best for traditional wedding styles. Square tables likewise offer a lot of elbow room for visitors, just as, more space for centerpieces.
U-Shaped reception seating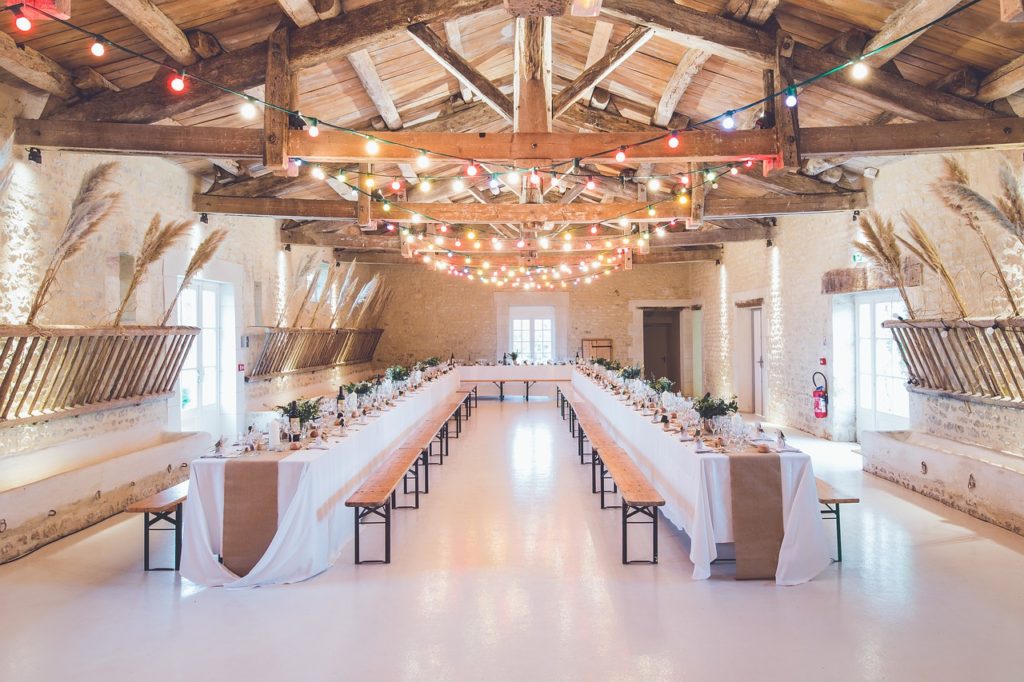 U-shaped or horseshoe-shaped is a current seating style that is extraordinary for indoor and outside receptions. Merely have the head table connect the two parallel tables to have a fun, modern seating arrangement.
Visitor Tables Total
How many guests did you invite? That number is essential for the number of tables and seats you will require! However, you also need to know how many guests fit at a table comfortably. If it's not too much trouble utilize the accompanying data for reference:
Round tables:
Table size Seats
36-inch 4
42-inch 5
48-inch 5
54-inch 6
60-inch 8
72-inch 10
Long tables:
Table size Seats
24-inch x 60-inch 2
24-inch x 72-inch 3
24-inch x 96-inch 4-5
30-inch x 72-inch 6
30-inch x 96-inch 8