Most weddings use banquet chairs or Chiavari chairs for their seating arrangements but, there are many different types of wedding chairs that you can use depending on the tone and aesthetic of your wedding.
Whether you're looking for something more traditional, modern, or contemporary wedding chair options exist that will work well with your theme. Our Kendall Miami party rental company will explore some of these different types of wedding chairs to help get you started planning!
Let's go over five wedding chair rentals, including:
Chiavari Chairs
Chameleon Chair
Folding Lawn Chair
Ghost Chair
Cross-back Chair
Chiavari Chair Rentals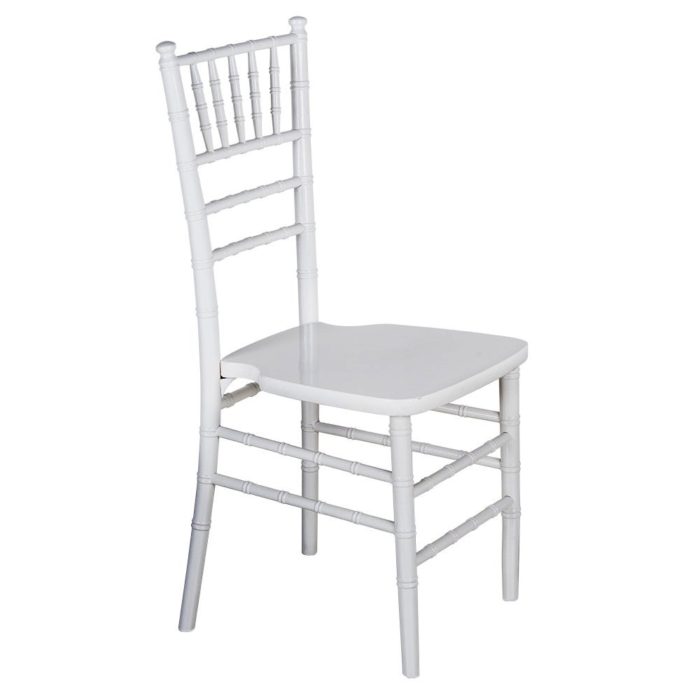 Chiavari chairs are quite possibly the most popular wedding chairs out there. Depending on your preference, you can find Chiavari chairs made of wood, but also in metal. The legs are usually curved and come either with a white vinyl seat pad or varnished wooden seats that have been sanded to give them their smooth finish.
Try to rent Chiavari chairs that come with cushions. These chair cushions add extra comfort to you and your guests. Chiavari chair rentals come in wood, resin, and even metal with many colors to choose from, including gold, silver, black, and white.
According to Wedding Wire, the cost to rent Chiavari Chairs averaged about $2 per chair but without covers.
Chameleon Chair Rentals
If you are tired of Chiavari chairs, consider the stylish Chameleon chairs. You won't see these simple metal-framed chairs uncovered because they usually come designed to be covered in fabric. Plus, there are many wedding chair covers and sashes you can use too.
The appearance of the chameleon chair is appealing and unique. With a decorative cross back and thick 8 cm cushion, which looks full and smooth, this chair can catch the eye of all your guests.
These chairs are also comfortable to seat as the cushion is thick. The Chameleon chair designs98 bring curved lines, and you will never see a straight line in these chairs.
Folding Lawn Chair Rentals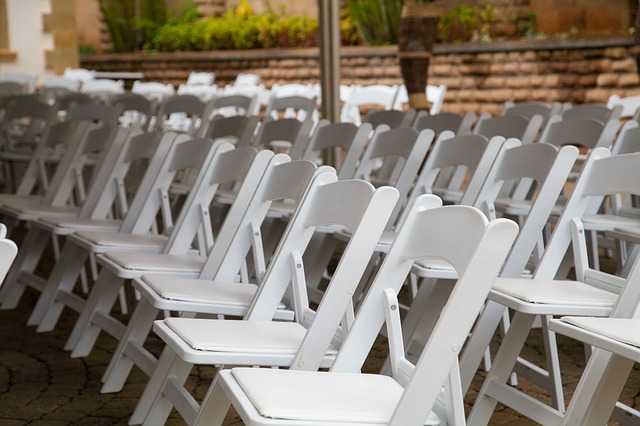 Folding Lawn Chairs are perfect for weddings as their cheap but very durable. They are also straightforward to transport to your wedding. Folding chairs come in many materials and colors. You can pick between plastic, metal, resin, or wood. But if you want quality, go with wood folding chairs.
Quality wood folding chairs feature some seat cushioning and look classy with the right cover.
Folding chair rentals in Miami can help when you have a modest wedding budget, as you could use inexpensive lawn chairs. Some of these chairs come with a fabric upholstered cushion seat. Make these chairs the centerpiece of your event! Rent folding chairs in bulk and save big.
Ghost Chair Rentals
What's great about the ghost chair? It's perfect for outside wedding events; it's stackable and made of recyclable plastic. Ghost chairs will brighten any room and provide a big statement. In addition, Ghost chairs' transparency makes them easy to blend seamlessly into almost any wedding theme.
Ghost chair rentals have a modern design, made of clear lucite or acrylic, making them invisible, so it looks like your guests are seated on air.
Cross-back Chair Rentals
Cross-back chairs are perfect for an outdoor reception or ceremony at a farm, garden, or vineyard. These chairs provide your many guests a relaxing and cozy seating.
The Crossback Chair design starts with sturdy hardwood that forms to the body with a curved seat. The cross-back curved wood has a backrest for the ultimate support and comfort for when your wedding visitors take a break from the dancing.
Conclusion to Types of Wedding Chairs
Suppose you want to throw a grand wedding, the small details matter. From picking a wedding theme and colors to the flowers and table centerpieces, you also have to bring your vision to life.
It isn't easy to pick
However, the types of tables and chairs are the more minor details that help bring your special day together. Contact our wedding rental Miami experts today and rent suitable wedding chairs for your big event!